Aluminium gangways
Our aluminium gangways combine design and comfort with strength, robustness and resistance. They are built from marine-grade aluminium alloy to offer superior corrosion resistance and mechanical strength. The gangways have different uses:
Aluminium gangways for accessing
Gangways can be used to bridge the height difference between the mainland and the dock. These aluminium gangways adapt to the tidal range in such a way that their slope never exceeds 20 degrees. They are manufactured from a special aluminium alloy, making them extremely lightweight, resistant to loads and without maintenance costs.
At AISTER, we facilitate the installation of these structures at any site, with a range of lengths and widths. The standard model is 12 m although gangways are available from 5 m to 20 m and in widths from 1 m to 3 m. As always, we can adapt our designs to meet your needs and manufacture the size you require. They can also support overloads of 300 kg/m2 and stand out for the quality of their materials.
Fixed pedestrian gangways
We can fit large lights to illuminate the area and ensure the security of your users. Examples include the 30 m aluminium gangways built at Duqm and the gangway built to allow pedestrians to cross the railway line at the Betanzos estuary.
Gangways for disabled access
An accessible environment encourages people with reduced mobility to enjoy their right to leisure. At the Port of San Gregorio (Pontevedra), AISTER was the first company in Spain to design a system specially adapted to provide users of walkers and wheelchairs with obstacle-free access to the dock, allowing them to enjoy sailing with their family and friends.  The maximum slope of these structures is 8 degrees.
Gangways and ramps for canoeing
We have installed removable aluminium gangways and ramps for international competitions. They can be extremely attractive for clubs, since the ramp can be used for the duration of the competition and then stored until the next regatta. We have manufactured aluminium gangways up to 25 m for tournaments when we installed the light sailing ramp for the Vigo Nautical Club. Other major sports works include the construction of the canoe facilities at Verducido (Pontevedra) and Castrelo do Miño (Ourense).
Anchorage systems
Different connections are available for our aluminium gangways:
For installations with piles, gangways can be anchored to the dock using an angle, with rollers on the dock.
For anchored installations, beams can be used for attachment to the dock, with rollers on the dock.
For rod installations, flexible connections can be used with lugs and rubber springs for the dock and the dock.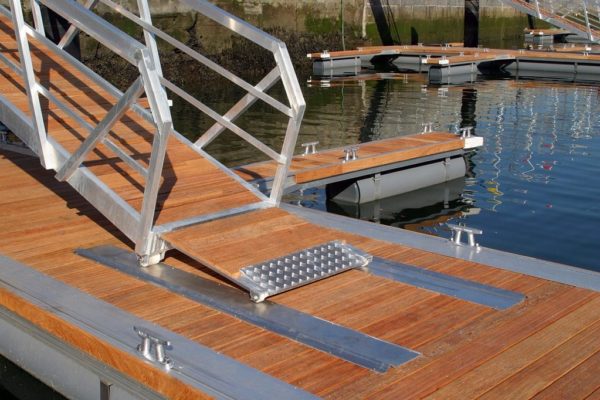 Pasarela de aluminio / Aluminium gangway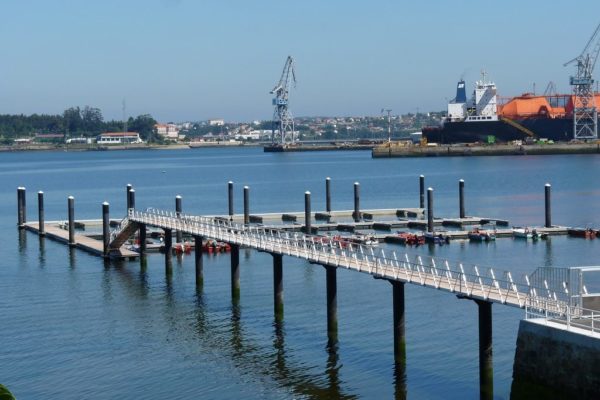 Pasarela / Gangway
Rampa de aluminio / Aluminium ramp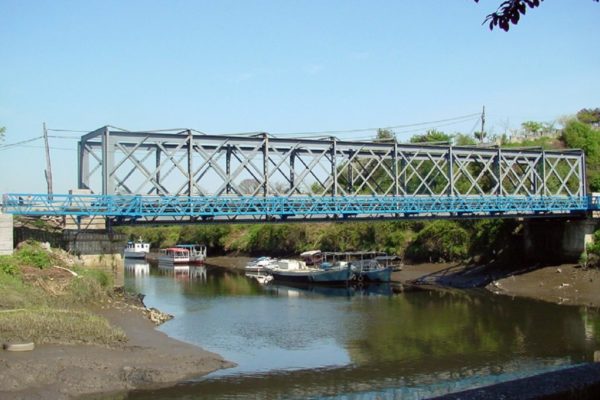 Pasarela de aluminio / Aluminium gangway