Aluminium floating docks
Our aluminium floating docks system arose out of the need to provide an affordable solution for marinas, rivers and lakes. It aims to provide the best berthing solution for your marina and is a perfect fit for requirements in Spain, Europe and throughout the world.
Exclusive matrices
The modules of our floating aluminium pontoons have different profiles with exclusive matrices that allow a range of accessories to be fitted, including bollards, cleats and service pedestals, without the need for welding or rivets.
Standard series: Designed for boats up to 10 m lenght. With 0.5 m of freeboard, our models are the perfect solution for building affordable small wharfs and light installations.
Reinforced series: For boats up to 20 m. The main profiles and the internal structure are reinforced to withstand greater stress.
Super-reinforced series: Designed for the berthing of long ships such as fishing vessels and mega yachts. A range of different freeboards is available.
High-quality materials
The flexibility provided by the aluminium has allowed us to develop the ideal floating structures for wharfs on river beaches, rivers and lakes. Other applications of this type of dock include rowing, light sailing and canoe clubs, as well as private marinas and even hotels, where guests can enjoy easier and more direct access to the water for all sorts of water activities. The modern and innovative design of our aluminium floating docks adds value to private wharfs.
The aluminium used by AISTER is a cost-effective and ecological long-term alternative, since it is made from different materials that reinforce its mechanical properties during manufacture. Our quality team has obtained ISO 9001 and 14001 certifications of our management system, which testifies to the quality of the materials we use and the finishes of our aluminium floating docks.
Aluminium floating docks: Floors
Although there is a wide range of floors for floating aluminium pontoons, composite has become the leading option in recent years. Many people are attracted to the material on account of its warmth and price. AISTER allows customers to choose the best flooring to meet their needs.
Wood: The planks we fit on our aluminium floating pontoons are treated with a protector to protect them against fungus, bacteria, woodworm and humidity. They are also anti-slip and their thickness varies depending on the dimensions of the dock.
Composite: One of the main advantages of this material is its low maintenance costs since it can be cleaned with just water. This is the main difference with wood, which requires periodic sanding and varnishing. It is also long-lasting, does not absorb humidity, does not swell and is resistant to insects and fungus. Our catalogue has a range of colours available to allow you to choose your preferred finish.
Tramex: The fibreglass grills are manufactured from polyester resins and reinforced using fibreglass filaments fitted in both positions to increase mechanical and chemical strength in marine environments where there is a high risk of corrosion. Tramex has become increasingly popular on account of its high capacity to filter UV rays and low maintenance costs.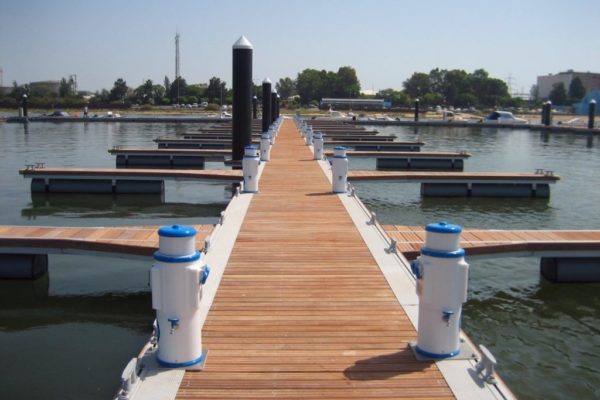 Pantalán flotante de aluminio con piso de madera / Aluminium floating pontoon with wooden floor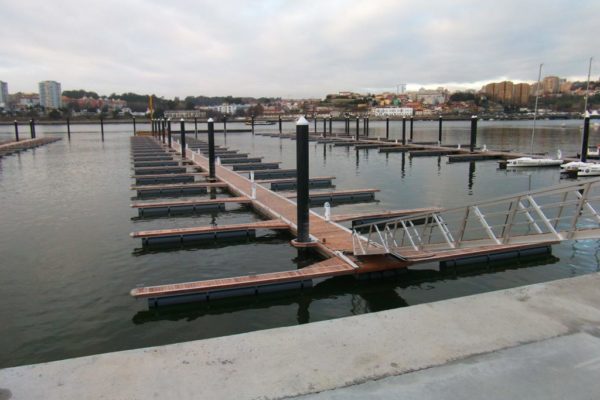 Pantalán flotante de aluminio / Aluminium floating pontoon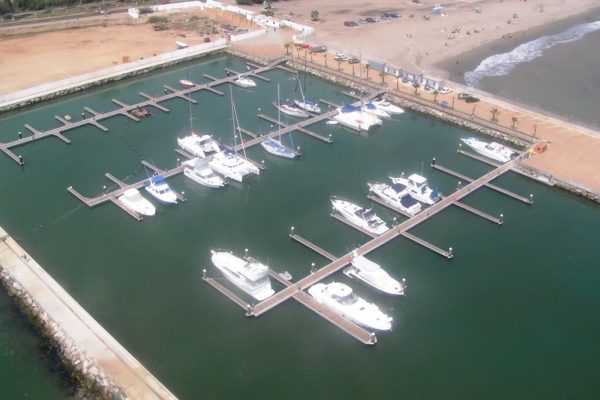 Pantalán de aluminio / Aluminium dock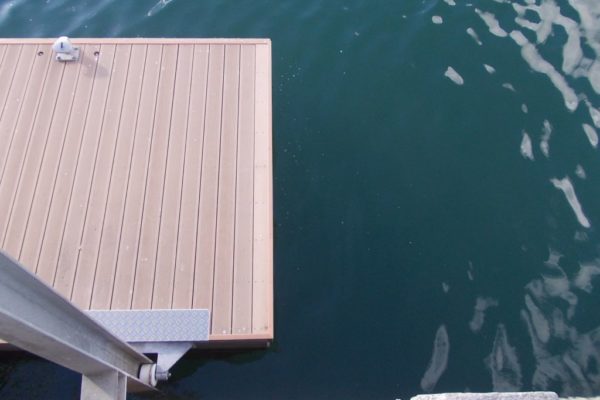 Piso de composite / Composite floor