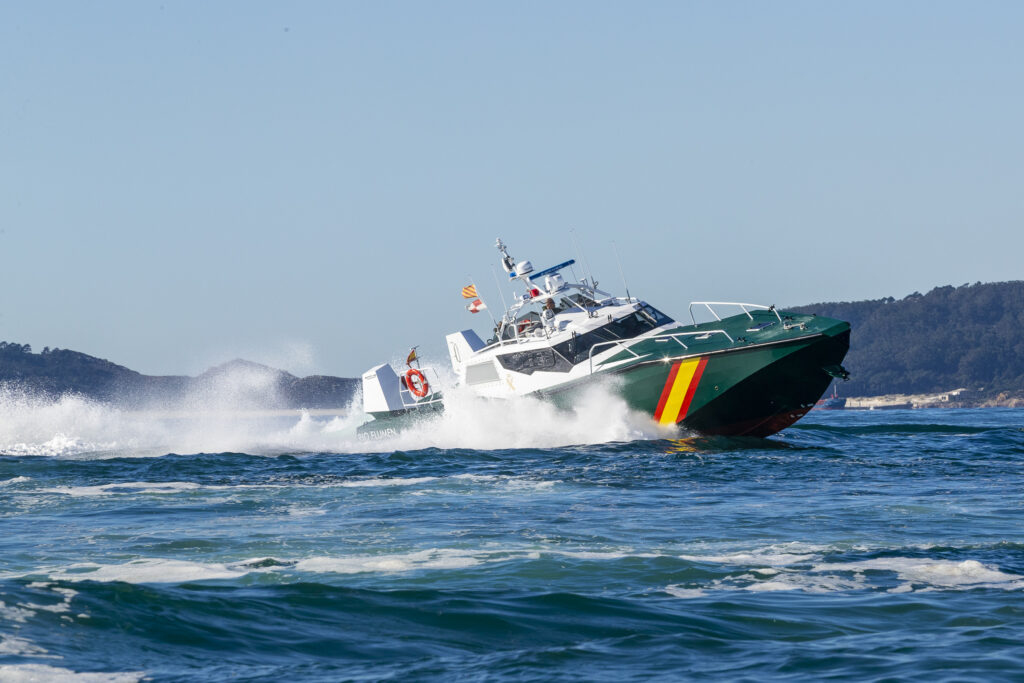 The sea trials carried out in Ría de Vigo exceeded all expectations in terms of manoeuvrability and top speed, comfortably exceeding 60 knots.
The first unit of the AISTER HS60 has already been supplied and presented in Algeciras, where it will start operating for the Maritime Service of the Spanish Guardia Civil (SEMAR).
Designed from scratch and with a completely innovative development, the prototype of the HS60 interceptor is ready to start operating in Algeciras. The vessel, designed by AISTER in their shipyard in Moaña, is designed to fight against illegal immigration, drug trafficking and organized crime, and the truth is that the sea trials carried out in Vigo showed more than satisfactory results.
Top speed and manoeuvrability are two of the boat's strongest points. Thanks to its experience in the construction of interceptors and a detailed development of the project, AISTER has been able to exceed all expectations. With 18 meters in length and 4.5 meters in beam, the HS60 comfortably exceeds 60 knots top speed with two MAN inboard engines of 1800 hp each, powering two HamiltonJet waterjets. The prototype design is the result of a great effort in design, engineering, performance, safety and comfort.
The interceptor also guarantees a quick and agile response to situations that require a quick or unexpected manoeuvre, being able to reduce the crash-stop to about two boat lengths.
The HS60's speed and manoeuvrability characteristics make it the first vessel of its kind in the world.
A qualitative and quantitative step forward in the evolution of high-speed interceptors
With this new model custom-designed for the Guardia Civil Maritime Service, AISTER has taken another step forward in the evolution of high-speed aluminium interceptors.
In addition to their performance in terms of speed and manoeuvrability, the HS60 has an interior and a 360° visibility exterior steering position that offers great habitability and comfort, both in the cabin and in the engine room, thanks to the high standards of thermal and acoustic insulation.
It is designed for four crew members and has ergonomic seats with anti-shock protection, as well as cabins and kitchen for longer cruises.