Service pedestals
AISTER is one of the leading manufacturers of navigation aids. As part of our aim to provide turnkey projects, we have developed our own line of service pedestals for providing docks with fresh water, electricity and lighting. We care about your comfort and safety and our models provide water and electricity in the same installation with compartments that are physically separate inside.
Service pedestals: our models
Cies: The unique design, functionality, mechanical strength and corrosion resistance make the Cies model one of the best service pedestals for use in extreme conditions in any part of the world. Manufactured from stainless steel.
Terranova: Manufactured with a rotomoulded polyethylene body and lights, and PVC base. The pedestals are 6 mm thick and come in a UV-resistant finish. They also have M-1 fire protection.
CE Mark
AISTER service pedestals are manufactured in Spain and have the CE mark to show compliance with Low Voltage Electrotechnical Regulations for outdoor electrical circuits. They have IP-67 protection for power sockets and safe switch housings. The Cies and Terranova models also have international IP-56 certification, guaranteeing the watertightness required by EU directives for the protection of electrical equipment installed on floating jetties.
Lighting, water and electricity services
The inclusion of lighting devices improves the general impression given by your marina. Our lighting plan is the ideal occasion for giving your sports harbour style and personality. Outdoor lighting really is the finishing touch for your project: as well as looking impressive, good lighting in marinas is also an important safety feature. AISTER service pedestals allow you to light the edges of docks and allow your marina to stand out on the horizon thanks to a low-consumption beacon light (10 W) on top.
The water service is provided in both models. Water is supplied via a ¾" diameter flexible pipe, reinforced with a stainless steel screen, which feeds two ½" stainless steel taps, which are extremely handy for cleaning boats.
Our pedestals can also be accompanied by other services such as:
Consumption management: A prepaid card or BUS system can be used to monitor users' consumption of water and electricity on the dock itself.
Emergency and firefighting pedestals also manufactured from PVC or stainless steel and equipped with a 6-kg extinguisher and life ring.
Our service pedestals can also provide other services such as TV and music streaming.
The installation of our service pedestals is complemented by a main control cabinet which can be used to control all the electricity. Manufactured from stainless steel, the cabinet is designed to house the main circuit breakers for power and lighting and control the power to a specific branch or to the marina as a whole.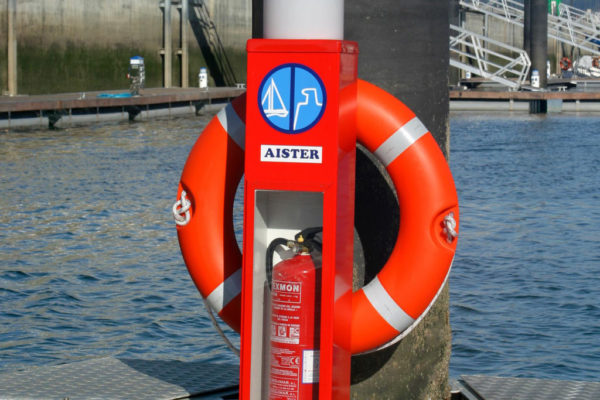 Torreta contra incendios / Firefighting service pedestal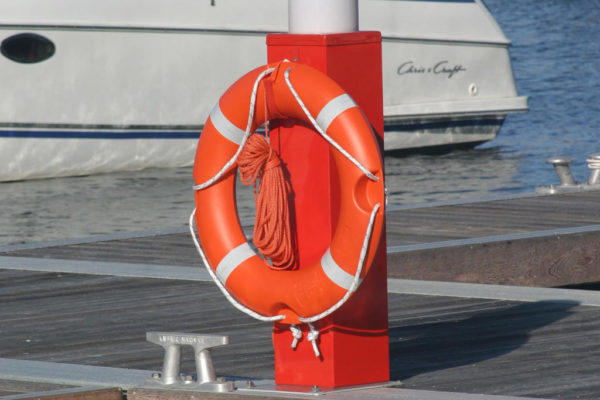 Torreta de servicio / Service pedestal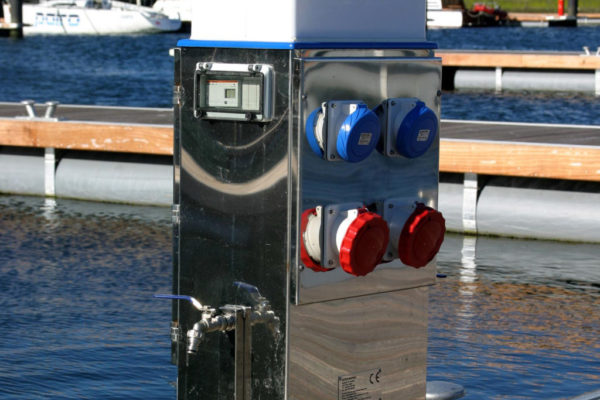 Torreta de servicio modelo CIES / Cies pedestal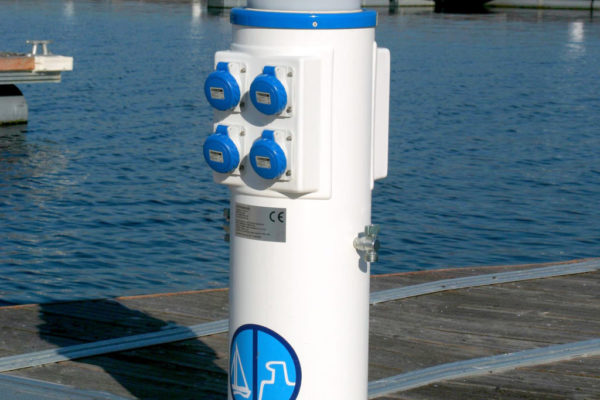 Torreta Terranova / Terranova Pedestal